Search Properties
Find your perfect property in Lanzarote
Enter your requirements in the search box on the left to start your search...
What our Clients Say:
They have been 100% approachable, reliable, informative and helpful at all times. We would highly recommend doing business with this company and would certainly use them again.
Mike Bisset
Global Product Director
Read more of our client testimonials.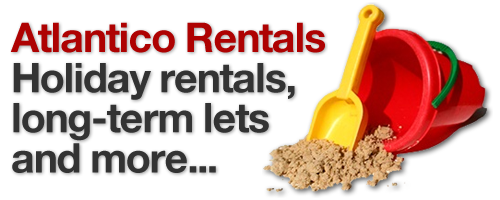 What our clients have to say
---
Atlantic Homes provides a superb service which goes from A to Z. Their support goes a lot further than just selling properties. As buyers they fully supported us in every administrative formality, helped us with our own bank matters and our paperwork for the town hall, the customs and the shipping. Even after the sale, Atlantico Homes continues to help wherever they can. Thanks to their broad experience and knowledge, they are for us by far the best partner to work with. We like to say a big THANK YOU to the whole team, because they helped us in realizing our dream. (Purchased from Martin Thorn)

Atlantico Homes biedt een ongelofelijke service van A tot Z. Hun professionele ondersteuning gaat veel verder dan enkel de verkoop van een eigendom. Elke medewerker levert zijn bijdrage in het afhandelen van administratieve formaliteiten, gaande van gemeentedocumenten, bank, allerlei officiële instanties en advies aangaande douane, shipping. Hun kennis en jarenlange ervaring is een
grote troef. Hartelijk dank aan het ganse team, want dankzij hun steun, hebben wij onze droom kunnen verwezenlijken.
Nadia Vlieger & Werner Daemen
Hoteliers
---
As recent purchasers of an apartment in Lanzarote we cannot praise the services of Atlantico Homes too highly. From the endless patience of Jonny to the help and assistance of Maxine and Fal and the
love and care we received from everybody at Atlantico as well as everybody at the Club Atlantico complex. Thanks again for making the purchase of our lovely apartment such an easy and smooth process!!
Sue & Tom from Devon
---
A Flemish couple went on holiday to Lanzarote and fell in love with this beautiful island. We were enchanted by the low level construction, the beautiful views, the mountains and the sandy beaches, the lovely restaurants, the everlasting good weather,… Well, paradise on earth and only four hours from Belgium.
Nothing could stop us of acquiring our own little house. When we walked in the office of Atlantico Homes, we knew it was the place to be. We can only praise the service, we received. Without the care they gave to us, buying this home of ours would not have been as enjoyable or easy. All the paperwork was taken care of in a really short period of time. After the purchase, they helped us with the maintenance of the property, even when we were back in Belgium. (Purchased from Martin Thorn)

Twee Vlamingen gingen op reis en werden meteen verliefd op dit prachtige eiland. Vooral de (verplichte) laagbouw sprak ons aan. Wondermooie zichten, bergen en zandstranden, heerlijke restaurantjes, altijd mooi weer, een paradijs op aarde en dat alles op slechts vier uur van België.
Niets kon ons weerhouden om hier ons eigen huisje te kopen en toen we bij Atlanticohomes binnenwandelden wisten we meteen dat we hier aan het juiste adres waren. Alleen maar lof voor de service die wij hier verkregen. Zonder hen hadden we dit nooit zo snel voor mekaar gekregen. Alle papierwerk hebben zij voor ons in zeer korte tijd geregeld. Ze hebben ons bijgestaan voor de klusjes die nog moesten gebeuren aan het huis terwijl wij afwezig waren. Ons vertrouwen in hun is zeer groot en terecht! Zeer vriendelijke mensen, hoogwaardige kennis, eindeloze service en altijd goed gezind. Ben je ooit van plan een eigendom aan te schaffen op Lanzarote, niet twijfelen: stap binnen bij Atlanticohomes en je zal meteen zelf ervaren dat dit de beste stap van je leven wordt.
Marc and Lieve
Flanders - Belgium. Vlaanderen - België
---
Having recently bought an apartment in Puerto del Carmen, I would like to commend Atlantico Homes for the wonderful way they looked after us, before, during and after the purchase of our apartment in Lanzarote.

Having looked for two years before buying, and like many people being very nervous of the process of buying abroad, we took great care in deciding which estate agent to use.
Throughout each part of the process, we were linked with an individual person, who we felt we could contact at any point.

From the initial contact by e mail, making appointments to view properties, through the viewing process and being carefully guided in the process of buying in Spain, Martin was extremely helpful and knowledgable and we felt totally in control of the process.
When it came to the purchase, Stephanie was very helpful in providing transport, advice and help in taking us to notaries etc and in the setting up of the apartment with washing machine, safe and other necessities afterwards.
Since purchasing the apartment, Helen has been more than helpful in keeping our affairs in order and the flat well maintained, while we are absent.

Add to this the English born owner Jonny, always a smiling face and a friendly welcome, we feel like they have almost become friends. Atlantico adopt you for life and are available for advice on an ongoing basis.
Their professionalism, integrity, expertise and friendly approach, we would highly recommend.

Rev Kevin Peat

Regional Denominational Leader
for 85 Churches in Scotland, North West England and North Wales
Kevin Peat
Reverend
---
After holidaying in Lanzarote for several years, my husband and I decided to buy a villa of our own and spend more time on this beautiful island. Atlantico Homes were recommended to us and after being let down with our initial purchase successfully helped us buy our dream home in the sun.

The second process was relatively painless due to Russell and the girls Stephanie and Maxine. They ensured that the whole process ran smoothly and were on hand at all times to give advice on any problems or worries that we may have had. Their after-sale service continued to be just as supportive with Russell arranging somewhere for us to stay while we looked for furniture and showing us where to source it. Russell also found us local firms who did a decent job for a reasonable price to carry out the refurbishment.

Thanks Russ we couldn't have done it without you.
Susan Marrin
---
My wife and I holidayed in Lanzarote last year and returned to the UK with an Apartment on the Riviera Park complex PDC. This was mainly due to the friendly professional approach by all the staff that we spoke with. We already own property in other parts of Europe but have never experienced the quality that we have received during the purchase from all concerned at Atlantico.

We were taken through the process stage by stage by different members of staff which made the purchase worry free and instilled confidence to us so much so that we are now in the process of our 2nd purchase with Atlantico Homes. We have been treated like friends through all the process and I am pleased to say that we now have good friends at Atlantico Homes.

I would strongly recommend prospective purchasers to use them and enjoy the purchase experience like we have.

Russell kept us in touch all through the purchase stages whilst Stephanie and Maxine worked tirelessly for us during the latter stages.
Managing Director
Premier Travel of Nottingham
---
We would like to take this opportunity to praise the service we have had from Atlantico homes. From our very first contact with them regarding viewing houses, to purchasing our holiday villa, and finally to the way in which Debbie handles the rentals for our villa when we are not there. They have been 100% approachable, reliable, informative and helpful at all times. We would highly recommend doing business with this company and would certainly use them again.
Mike Bisset
Global Product Director
---
I have recently completed the purchase of my third property on Lanzarote by utilising the services of Atlantico Homes and I cannot speak too highly of their professional approach. My input was to find a property I liked and agree a price; Atlantico Homes literally did the rest for me!

Dealing with the Bank, Notaries, legal work and the Council was all carried out on my behalf. Once the property purchase was concluded they went on to assist me with setting up direct debits, community charges and all of the mundane requirements which suddenly become a minefield when you don't speak the language or are unaware of local laws and customs.

Atlantico Homes really do supply a superlative service and I must give a special mention to a few people. Jonny and Ricardo are Atlantico Homes, lovely men but, like me these days, are (very approachable) figureheads! The real workers for me are: Martin, Stephanie and Maxine. They are tireless and totally on their clients side. Their individual input into ensuring that I get the best of service is worth its weight in gold, (or chocolate in Stephanie's case).

These are my individual 'team', but I know from talking to fellow purchasers that you will get the same level of service and attention to detail from each and every employee of the Company.

I certainly wouldn't have dealt with Atlantico for properties two and three if I hadn't been delighted with their service on the purchase of property number one, and I now wouldn't even dream of going elsewhere.

We all see endorsements like this in glossy magazines and if you are as cynical as me you will think that they have been banged out by the management in their tea break! If you have any doubts about purchasing a home in Lanzarote, (and lets face it, we have all heard horror stories about purchasing property abroad), ask any member of staff to give you my mobile number and I will personally back up everything that you have read.

Let these guys do the work for you so that you can look forward to enjoying your new home. I wish you many happy years in it (until you upgrade through Atlantico Homes of course!).
Martyn Watts
Managing Director, Universal Inspection (UK) Ltd