Search Properties
Find your perfect property in Lanzarote
Enter your requirements in the search box on the left to start your search...
What our Clients Say:
We cannot praise the services of Atlantico Homes too highly.
Sue & Tom from Devon
Read more of our client testimonials.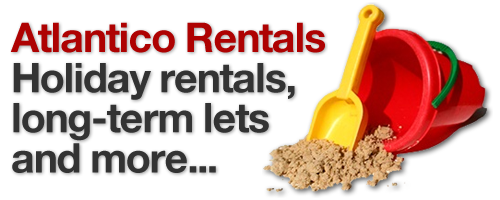 Lanzarote Island Guide
There are lots of attractive resorts, towns and villages on Lanzarote. But where will you find your ideal place in the sun?
Your choice of area and location is going to depend primarily on the purpose behind your purchase. For example if you are seeking to buy a property to rent out to holidaymakers then it makes sense to focus on the main holiday resorts, as these locations will provide a steady stream of tourist guests and income.
However if you are planning to relocate or retire then you may want to be based away from the hustle and bustle of the main resorts in an area which provides greater opportunities for integration into local island life.
Lanzarote is however quite a small island, measuring just 60km by 40km, so it is also possible to enjoy the best of both worlds by buying in more rural areas, such as La Asomada, Macher and Yaiza which are still in close proximity to the main resorts.
Puerto del Carmen
Puerto del Carmen is the largest and oldest resort on Lanzarote - and critically for anyone seeking a reliable rental property it is also the most popular too, especially with British and Irish tourists.
The resort's location just a ten minute drive away from the airport makes it very accessible and there is a good deal of variety in the housing stock here, a legacy of how the resort has developed since tourism first took off back in the 1970s.
The New Town, which runs parallel with the main beach of Playa Grande and the Avenida de las Playas, is home to quite a high concentration of holiday complexes, making it possible to pick up a studio or apartment in close proximity to the beach at surprisingly reasonable prices.
Most of these apartment complexes are professionally managed too, providing guests with communal facilities and amenities such as large shared swimming pools, reception areas and on site bars and restaurants.
If you're on the lookout for a luxury villa instead then focus your search on the Old Town, as areas such as Los Mojones and Risco Prieto boast plenty of high quality three and four bedroom properties with private pools that are just ideal rental investments.
Significantly, the local island authorities continue to invest in Puerto del Carmen, as they are keen to maintain its competiveness against other newer holiday destinations. This has resulted in a number of recent improvements to the seafront promenade and the harbour area - providing potential investors with clear indicators that the resort will continue to retain it's popularity with tourists for many years to come.
Playa Blanca
Playa Blanca is the second most popular resort on Lanzarote and is located around 40 minutes drive from the airport at Arrecife. It was developed a decade after Puerto del Carmen to the north and as a result boasts a newer and fresher infrastructure, which is most evident along the seafront promenade which is now lined with good quality four and five star hotels.
There are still plenty of opportunities to purchase front or second line properties here too in areas such as Costa Papagayo and Playa Flamingo, where there are a mix of both apartments and villas available just a short walk from the beach. There are also a number of good quality developments and areas a little further inland where it is possible to pick up good value villas with private pools at very reasonable prices.
The (open) secret of Playa Blanca's success as a holiday resort can be attributed to two key factors - climate and beaches. This part of the island enjoys more sunshine hours and higher temperatures than any other part of Lanzarote - and this is especially notable during the winter months. The beaches here are equally outstanding - making Playa Blanca a very popular choice with anyone seeking a retirement home or relocation base too.
These fundamentals have helped to transform what was just a small fishing village some forty years ago into a thriving holiday resort today, and have ensured that despite the recession Playa Blanca is still a hot holiday choice for hundreds of thousands of tourists each and every year.
Costa Teguise
Costa Teguise completes the trio of resorts on the island - but is far from being just the third best place to buy a property on Lanzarote after Puerto del Carmen and Playa Blanca. It's proximity to the island capital of Arrecife and it's resulting popularity with locals also means that there are a wide variety of different property types and investment options available here.
Costa Teguise boasts five golden sand beaches so wherever you choose to buy, your property is always going to be just a short walk from the nearest playa. It is also home to an excellent selection of restaurants, reflecting the fact that it tends to play host to a slightly older and more affluent demographic than it's resort rivals to the south.
Costa Teguise's other major trump card is the fact that it is located in close proximity to most of the major tourist and cultural attractions on the island, such as the Jameos del Agua, the Mirador del Rio, the Cactus Garden and the historic former island capital of Teguise - ensuring it's continued popularity with holidaymakers.