Search Properties
Find your perfect property in Lanzarote
Enter your requirements in the search box on the left to start your search...
What our Clients Say:
I have recently completed the purchase of my third property on Lanzarote by utilising the services of Atlantico Homes and I cannot speak too highly of their professional approach.
Martyn Watts
Managing Director, Universal Inspection (UK) Ltd
Read more of our client testimonials.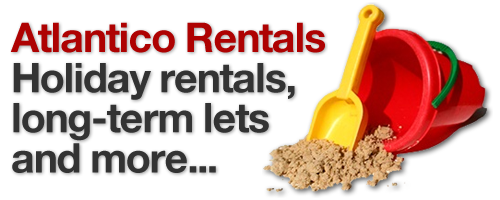 Property Buyer's Guide
Can I still buy a property in Lanzarote after Brexit? Yes, of course you can. After Brexit non-EU nationals will still be able to visit Lanzarote for 90 days in every 180 day period.
You may also be able to extend this period by applying for a visa.
Can I still invest in holiday rental property in Lanzarote? Yes, absolutely. In the longer-term Lanzarote will remain a popular year-round holiday destination, making a villa or apartment here as sound an investment as ever.
Before you purchase
As there is a wide variety of property for sale in Lanzarote, it pays to give some thought to the type of property you are looking for. Whether you are looking for a one bedroom apartment in Puerto del Carmen or a luxury country villa as a long term investment, we can help you find the right property. We will listen to your requirements and advise you of your options when choosing your Lanzarote property. If you are planning a visit to the island, contacting us in advance will allow us to prepare viewings of the best properties thus saving you time.
Purchasing your ideal property
When you have decided on your property Atlantico Homes will work to negotiate the best price possible for your chosen property, you must also take into consideration that there are expenses on top of the sale price when buying in Lanzarote.
As a guideline only, calculate 10% of the sale price and this should cover all your expenses. This includes stamp duty (Impuesto sobre Transferencias Patrimoniales - Transfer tax), notary fees, land registry fee and any mortgage set up fees. Without a Spanish mortgage you can take off approximately 1%. As a general rule a €1,000 holding deposit will be required to remove the property from the market and allow time for legal searches to be carried out.
Also at this time you will be required to obtain an NIE number. NIE stands for Número de Identificación de Extranjeros (equivalent to National Insurance number in the UK & PPS number in Ireland). This document is obligatory for all non-residents who wish to purchase a property in Spain and must be obtained before taking title. It is a very simple process which we will arrange for you.
Conveyancing
Atlantico Homes' legal department will inspect the results of the local land registry search Nota Simple for the property you wish to buy. This will confirm whether everything is in order, for example that the vendors are indeed the lawful owners and that there are no charges, encumbrances or legal problems with the property. Utilities will be checked and a local town hall search will highlight any future town hall plans for the surrounding area and ensure all taxes have been paid.
Deposit Contract
Once the searches have been carried out and it is confirmed that everything is legally in order, a private sale and purchase contract will be drawn up between purchaser and vendor. This states the conditions of the transaction, identifies the property and the parties involved, as well as the deadline for completion.
Once the contract is drafted and both parties are happy to sign and enter into a contract, the purchaser is then obliged to transfer 10% of the purchase price to Atlantico Homes' client account, which is regulated by the Spanish government. Once the contract is signed, if the purchaser withdraws from the sale, the deposit will be forfeited. If the vendors fail to sell after this stage, they will be forced to repay the purchaser their 10% deposit back, plus the same amount again as compensation - a system designed to deter gazumping.
Finance and Mortgages
If you are purchasing with a mortgage, Atlantico Homes will liaise with your bank in order to process the transaction as smoothly as possible. Please ask us for a form stating what paperwork is required to begin the application.
If you don't need a mortgage or you have pre-arranged finance, you will have a distinct negotiating advantage when it comes to settling a price once you have decided on your preferred property.
Completion
You will sign the new title deed in front of a Spanish notary with the aid of the court appointed sworn translator, and the outstanding amount will be paid over to the vendor. Before this happens, the notary will perform its own independent searches verifying an up-to-date result that all is in order with the purchase.
The notary requires all the original documentation pertaining to the identification of both the vendor and purchaser and all property documents and proof of tax payments.
After you sign your deed of purchase in the notary, Atlantico Homes will complete your paperwork by paying your stamp duty and registering your title deed. The entire process from signing in the notary's office to receiving your registered deed takes about 2 months, but you are entitled to receive a Copia Simple (shorter pre-land registry deed) within 2-3 days of signing.
Utility bills will be transferred to your name and direct debits will be set up to pay future bills. The same applies for the community charge if your property is on a complex with a community of owners.
After completion
Once you own your new property you will probably still need advice and help. We at Atlantico Homes provide a dedicated after-sales service and will be delighted to help you with sourcing furniture, property management, translation services, or any need that may arise.