Search Properties
Find your perfect property in Lanzarote
Enter your requirements in the search box on the left to start your search...
What our Clients Say:
If you ever plan to purchase a property in Lanzarote, don't hesitate: enter Atlantico Homes and instantly experience it as the best step you made in life.
Marc and Lieve
Flanders - Belgium. Vlaanderen - België
Read more of our client testimonials.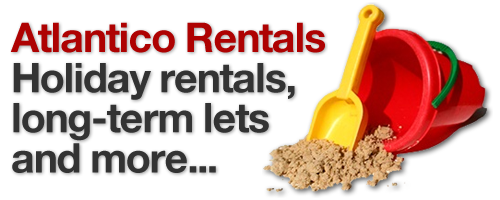 10 Good Reasons for Buying Property on Lanzarote
1. Great year-round Climate
Lanzarote's greatest asset is undoubtedly it's climate. It lies on the same line of latitude as parts of Florida and Mexico and the sun shines here all year round. Temperatures rarely fall below 20° Celsius, and rainfall is minimal too. As a result the island welcomes tourists all year round - providing an uninterrupted stream of rental revenue for the owners of holiday properties.
2. Close to Home
Lanzarote is very accessible. It takes just four hours to reach the island on flights from the UK, making it the closest winter sun destination to home. Services are available from virtually every British airport too, with cheap flights offered by all of the leading low cost flight operators such as Ryanair and easyJet.
Contrast that with the time and expense of visiting the Far East or the Caribbean and it's easy to see why Lanzarote is as popular during the winter as it is in the summer.
3. Reliable Rental Investment
Lanzarote has been a popular holiday hot spot for well over forty years now - and unlike some other destinations which ebb and flow it never seems to go out of fashion. As is evidenced by the fact that the island still attracts around 2 million visitors per year, even during the depths of the recession.
4. Loyal British & Irish Holidaymakers
The UK accounts for well over 50% of all visitors to the island and when combined with arrivals from Eire this figure is even greater. Many of these tourists are on the lookout for good quality rental properties, making it much easier to secure bookings for owners who speak their language.
5. EU Territory
Lanzarote is part of the Spanish owned Canary Island chain, so hence is also part of the EU. If you already reside in another EU country there are no restrictions on residing on the island.
However, post-Brexit, UK residents can only spend up to 90 days in any 180-day period in any EU territory. UK residents wishing to extend their length of stay beyond this duration are required to apply for a visa.
6. Familiarity
Spain is the most popular destination on the planet for British tourists. So even visitors who have never been to the Canaries before will find that the customs, cuisine, language and lifestyle are all very familiar to them, making the island a far less daunting prospect for anyone planning to relocate or retire here.
7. Affordability
Property on Lanzarote has generally retained it's value much better during the recession than in many other parts of Spain, thanks largely to strict local planning laws which ensured against over development. That being said however the island has not been totally immune and prices are currently some 10-15% lower than prior to the crash in 2007/8. These price drops have now bottomed out, making this the ideal time to buy.
8. Lifestyle
Anyone seeking a real change in lifestyle to the UK or Eire should give Lanzarote some very serious consideration. The climate here means that residents can spend the vast majority of their time outdoors, not stuck inside with the central heating on - which means you can pursue all types of sport and leisure activities.
Everything's cheaper - from utility bills to shopping. There's much less crime and the relentless march of consumerism is still largely absent. This makes Lanzarote a much simpler, more natural and altogether easier and more enjoyable place to live.
9. Cosmopolitan Island
You could be forgiven for thinking that the population of Lanzarote is solely made up of Canarians and ageing expats seeking a warm weather retirement bolthole. That couldn't be further from the truth - as around 30% of the island's residents were born outside of Spain and the average age of people relocating here from the UK is mid 30s. Facts which illustrate that Lanzarote is both a dynamic and cosmopolitan island.
10. Amazing Scenery & Beaches
If you're a nature lover then Lanzarote is the island for you. It boasts some of the most amazing and unique scenery on the planet, such as the surreal volcanic landscapes of the Timanfaya National Park. It is also an island of contrasts as the North is as green and verdant as the South is dry and arid. Beach lovers will adore the 90 plus stretches of sand on Lanzarote - most of which are made up of golden grains rather than the black stuff that is more common elsewhere in the Canaries.