Search Properties
Find your perfect property in Lanzarote
Enter your requirements in the search box on the left to start your search...
What our Clients Say:
I have recently completed the purchase of my third property on Lanzarote by utilising the services of Atlantico Homes and I cannot speak too highly of their professional approach.
Martyn Watts
Managing Director, Universal Inspection (UK) Ltd
Read more of our client testimonials.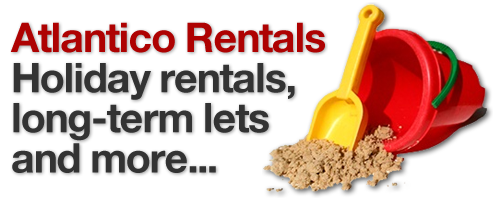 Relocating to Lanzarote - Local Resources and Services
Many visitors to our offices and our website are interested in relocating from the UK and moving to Lanzarote on a permanent basis. And why not? As the island boasts many advantages, not least a cheaper cost of living and a far better climate than is available in countries such as the UK and Eire.
As you can see on our Market Information page, which gives more detail about the island's demographics, nearly 30% of Lanzarote's current residents were born outside of Spain, so illustrating that it is relatively easy to take the plunge. Not least if you already live in an EU member state, as freedom of movement for European residents is enshrined in law, which means you don't need any special paperwork or permission - you can literally just book a one way flight ticket and turn up.
However we would very strongly recommend doing some research first. Employment opportunities here for example are currently more limited than in other EU states whilst one bi-product of the recession in Spain has been serious downward pressure on wages and salaries. On the upside though Lanzarote's buoyant tourist market offers plenty of opportunities for those seeking to set up their own business venture.
Schools & Education
Education is compulsory in Spain for everyone aged 6yrs to 16yrs. 5 to 11 year olds attend Primary Schools, 12 to 16 year olds attend Secondary Schools. If your child is a Spanish speaker you can enrol them in a state school for free. However most expats tend to favour one of the four fee paying, private schools on the island where some or all of the classes are conducted in English and follow the National Curriculum.
British School of Lanzarote (Tahiche)
Web : www.thebritishschoollanzarote.com
Tel : (0034) 928 810 085
Email : info@thebritishschoollanzarote.com
Colegio Arenas (Costa Teguise)
Web : www.colegioarenas.es
Tel : (0034) 928 41 59 96
Colegio Europeo Daos
Web : www.colegioeuropeodaos.com/en
Tel : (0034) 928 515818
Colegio Hispano Britanico
Web : www.colegiohispanobritanico.com
Tel : (0034) 928 173 066
Moving/Haulage
It can be cheaper than you might think to move furniture and personal items to Lanzarote as many companies price by space rather than weight.
CK Haulage
Web : www.ckhaulage.com
Tel : (0034) 928 524190
TC Freight Services
Tel : 0208 890 7888
Email : sales@tcfreight.co.uk
Work and Employment
In order to be able to work legally on Lanzarote you will need to have secured a N.I.F (Numero Identifcacion Fiscal) number and in some cases residency. The application process can be a little daunting for non-Spanish speakers, so you may want to employ a local paperwork processor such as AtoZ.
For non-Spanish speakers employment is likely to be limited to working directly with tourists, possibly as a transfer rep, for a holiday company or resort, in local bars and restuarants or working with excursion operators. That being said plenty of emigres start out like this, before going on to acquire the language skills that then enable them to apply for a wider variety of jobs on Lanzarote. So as the old saying goes it's not where you start, it's where you finish! Be prepared to take on whatever work comes your way initially though.
Driving and Cars
Driving Licences
You can use your existing UK driving licence in Lanzarote. But as of January 2013 all foreign drivers living in Spain will be required to take a medical examination every ten years, or every five years if over 65, so it makes sense to apply for a Spanish licence if you plan to relocate to the island permanently.
Importing A Vehicle
The process of importing and licensing a non-Spanish vehicle in Lanzarote is both time consuming and expensive. If you are importing a used vehicle there is no duty to pay however the car will be liable for a registration tax, approximating between 7% and 10% of its declared value. And registration requires both language skills and a mountain of paperwork at Trafico in Arrecife.
We advise that it is best to sell your car in the UK and use the funds to buy a an already licenced and registered vehicle here in Lanzarote. Second hand cars can be found on numerous local websites such as Esto Hay and are regularly advertised in local free magazines.
In general second hand cars hold their value better here than they do in the UK, due to simple supply and demand factors (ie. it's quite a small island). Car hire companies are also willing to negotiate longer term rentals if you are only planning to reside here for a few months.
Applying for Residency
If you are an EU citizen and are planning to stay in Lanzarote for more than 6 months then you are required by Spanish law to apply for residency here. This used to be such a daunting and time consuming prospect for many expats without Spanish language skills that a whole sub industry dedicated to this process blossomed - and there are still companies out there who will assist you with this task.
However the process has become a little more streamlined in the last few years and the processing of applications has been speeded up, usually taking no more than a week.
In order to apply visit the Oficina de Extranjeros, located in the Comisaría de Policía building in Arrecife. They are open from 9am to 2pm Monday to Friday. This is usually a two stage process as in the first instance you need to pick up the forms EX18 and Modelo 790, then return with them completed along with the following:
Passport photos x 3
Valid passport and or driving licence
Property deeds (escritura)
Modelo 790 form payment receipt (payable in any bank, cost around €10)
Residency requirements also include displaying you have means to support yourself whilst on Lanzarote, to ensure that you do not become a burden on the already over sretched state system. So depending on your personal circumstances you may also be required to present a contract of employment, proof of self-employment or proof of funds.
Healthcare
Much as in the UK the island is home to both private and state run public healthcare institutions. Over the last few years there has been growing concern in Spain that foreigners are coming to the country to take advantage of the high quality local healthcare facilities. So it isn't possible to just roll up at any hospital and expect treatment. You will instead need:
EHIC Card (UK residents)
Replacing the old E111 form you apply for your EHIC card in the UK before leaving the country. Application forms are available online here or from your local post office. You will be asked to present this card in any public run local hospital or surgery.
Residents Procedure
If you are working in Spain and paying your social security contributions then you are automatically entitled to access the public healthcare system on presentation of your social security card.